The UK's international reputation has taken "a bit of a knock" this year, Rishi Sunak has admitted, as he vowed to restore economic stability.
The prime minister said tax rises and spending cuts in Thursday's Autumn Statement were needed to reduce rising inflation and UK public debt.

Critics of his approach fear it could worsen a predicted two-year recession.

But Mr Sunak said decisions would be taken in a "fair" way, and everyone would benefit from reduced debt levels.

Speaking to the BBC's political editor Chris Mason at the G20 summit in Indonesia, he added reducing inflation was his "number one challenge".

He added it was important to "limit" mortgage repayments for homeowners, which have risen in the wake of September's mini-budget.

"The best way to do that is to get a grip of our borrowing levels, and have our debt on a sustainable basis falling," he added.

Chancellor Jeremy Hunt, who will unveil the Autumn Statement on Thursday, has warned that everyone will pay more tax under his plans to repair the public finances.

The budget, the government's second financial package in under two months, comes after mostly now-abandoned tax cuts in the mini-budget, outlined by Liz Truss's chancellor Kwasi Kwarteng, sparked financial turmoil.

The Treasury has not confirmed details, but the BBC has been told Mr Hunt is set to announce spending cuts of about £35bn and plans to raise £20bn in tax.

The plans are likely to include freezes to income tax bands, and increases to taxes paid on profits made from selling shares and second homes.

Mr Sunak has hinted that pensions will rise to keep pace with inflation, telling reporters on the way to Bali that pensioners would be "at the forefront of my mind".

Also under discussion is a plan to allow councils in England to raise council tax by more than 3% without holding a local vote - something they cannot do at the moment.

Chancellor Jeremy Hunt was earlier urged not to go down that route by Labour MP Chris Bryant - but he did not rule it out.

He said everyone will be asked to contribute more in tax in Thursday's Autumn Statement, with the better-off taking the biggest hit.

"And that will be reflected in our decisions on council tax and every other tax as well," Mr Hunt told MPs.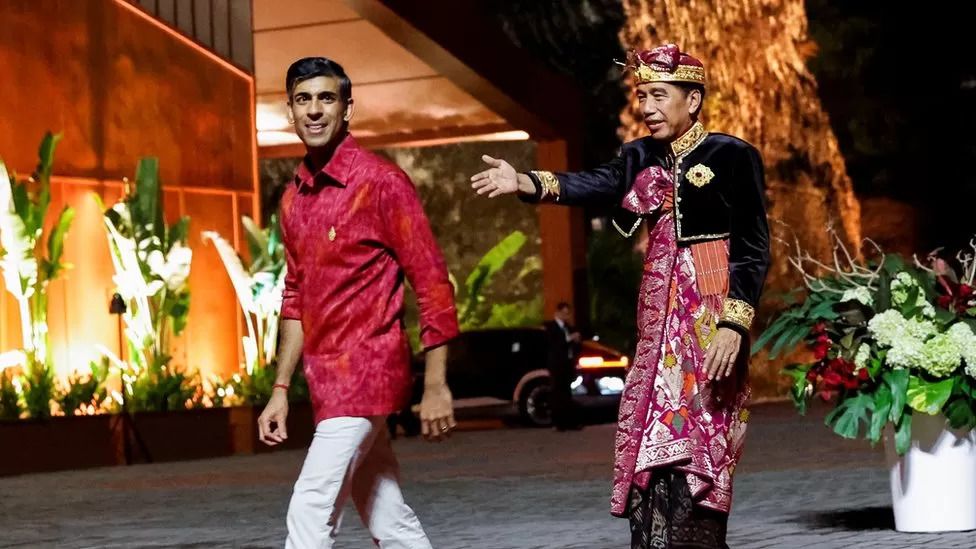 Indonesia's president welcomed Rishi Sunak to the G20 summit, his first since becoming UK PM
Asked whether he would heed calls from Tory MPs to protect school budgets, Mr Sunak said he couldn't comment on specifics ahead of the statement.
But he added: "Even though the situation is difficult [...] we will make those decisions balancing everything we have to.
"People can see that yes, the approach we've taken is fair, yes the approach we've taken is compassionate when considered in the round.
"Taking a step back, the number one challenge we face is inflation," Mr Sunak added.
"It's important that we get a grip of that. It's important we limit the increase in mortgage rates that people are experiencing."
Tax hikes warning

Thursday's statement comes amid a worsening economic backdrop, with wages lagging rising prices and the Bank of England warning the UK is facing its longest recession since records began.

Labour shadow chancellor Rachel Reeves said the country's financial "predicament" was the result not just of the mini-budget, but "12 years of Conservative mismanagement".

She told reporters her party would make "fair choices" on taxation, highlighting her party's proposals to end non-dom status and increase windfall taxes on energy companies.

Some Conservatives MPs have warned against increasing taxes, with former party leader Iain Duncan Smith warning tax hikes could lead to a "deeper" slowdown.

Sir John Redwood, a former minister on the right of the party, has also warned that "tax rises and the wrong spending cuts now will turn a downturn into a nasty and long recession".

The government is trying to meet its official fiscal targets, which say debt should be falling and day-to-day spending should be met by tax revenue in three years' time.
Rishi Sunak: UK's 'reputation took a bit of a knock'