Celebrating British design and craftsmanship, crowds at last saw Catherine, Princess of Wales and Queen Camilla's hotly anticipated coronation gowns, at Westminster Abbey.
Catherine, Princess of Wales
The Princess of Wales was wearing an Alexander McQueen dress in ivory silk crepe with silver bullion, and embroidery featuring the floral emblems of the UK - rose, thistle, daffodil and shamrock.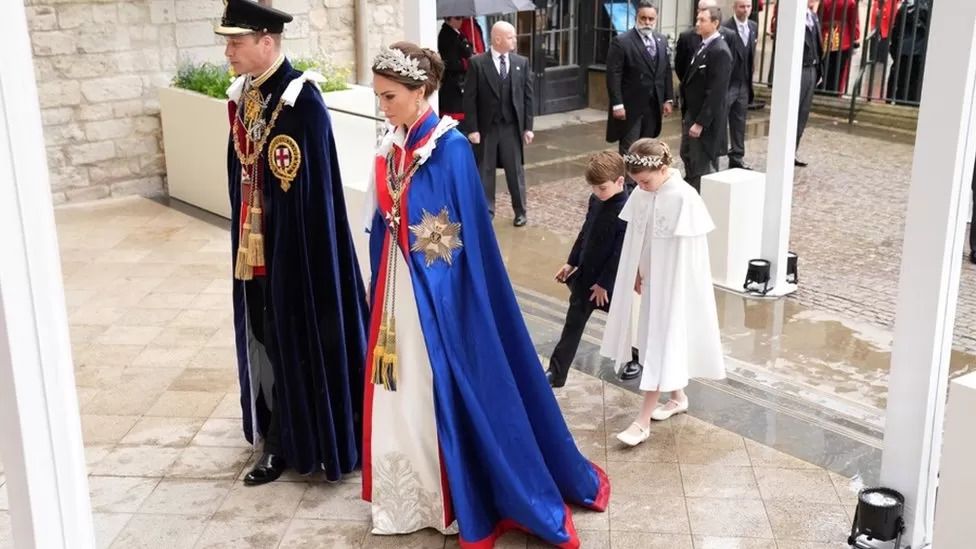 "The craftsmanship at McQueen is unrivalled," says fashion journalist, Tiffanie Darke. "And she has a relationship with them that goes back so long - they would be the natural choice for her."

She was also wearing pearl and diamond earrings that once belonged to Princess Diana.

"That's the beauty of jewellery," says gem expert Joanna Hardy, "that you can include people, you can include their memories."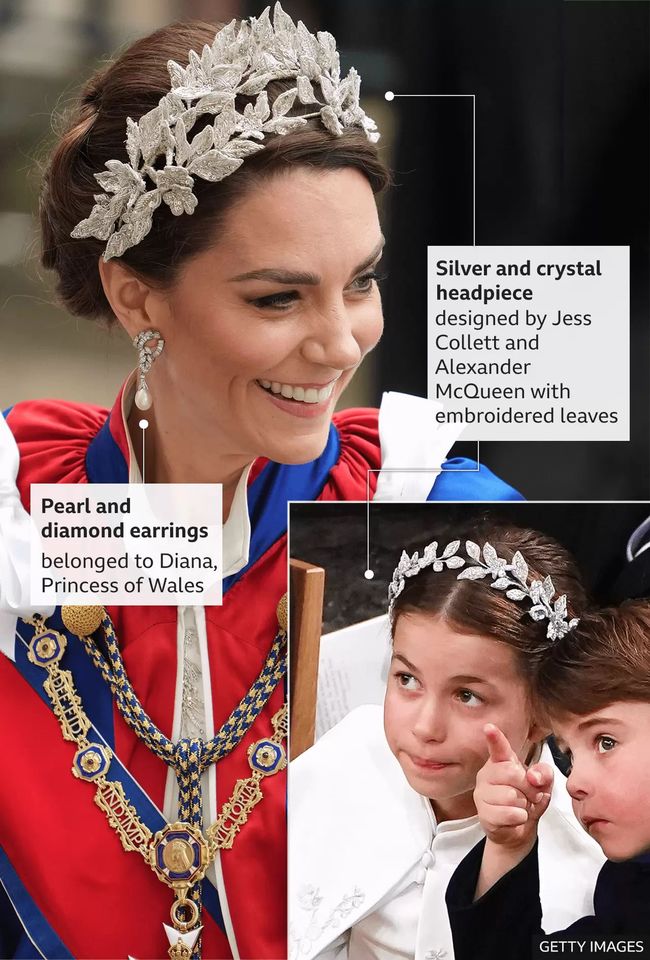 The princess was also believed to be wearing the George VI Festoon Necklace, made for Queen Elizabeth II when she was in her twenties at the request of her father, King George VI. We have yet to see Catherine wearing it.

She was wearing a beautiful headpiece made of silver bullion, crystal and silver threadwork by Jess Collett x Alexander McQueen - in what is believed to be the milliner's first collaboration with the fashion house. Jess Collett has made hats and hairbands for Catherine's sister, Pippa Middleton, in the past.

According to Dr Benjamin Wild, a cultural historian and expert on royal dress, it is significant that none of the Royal Family were wearing tiaras.

"Dispensing with the coronets is a nod to make the monarchy more relevant and more modern," he says. "Only the King and the Queen will have jewel-encrusted crowns on their head, to elevate their status."

Queen Camilla

The Queen's coronation dress was by British fashion designer Bruce Oldfield, who has been designing for her for more than a decade, providing couture for many of her public engagements.

"This is the biggest commission of my life - I have to pinch myself sometimes," says the couturier, who attended the ceremony. "Her Majesty has always been wonderful to collaborate with. I know what she feels happy and confident wearing."

The tailored gown has an ivory, silver and gold colour palette, with bracelet-length sleeves, a wide neckline and a short train.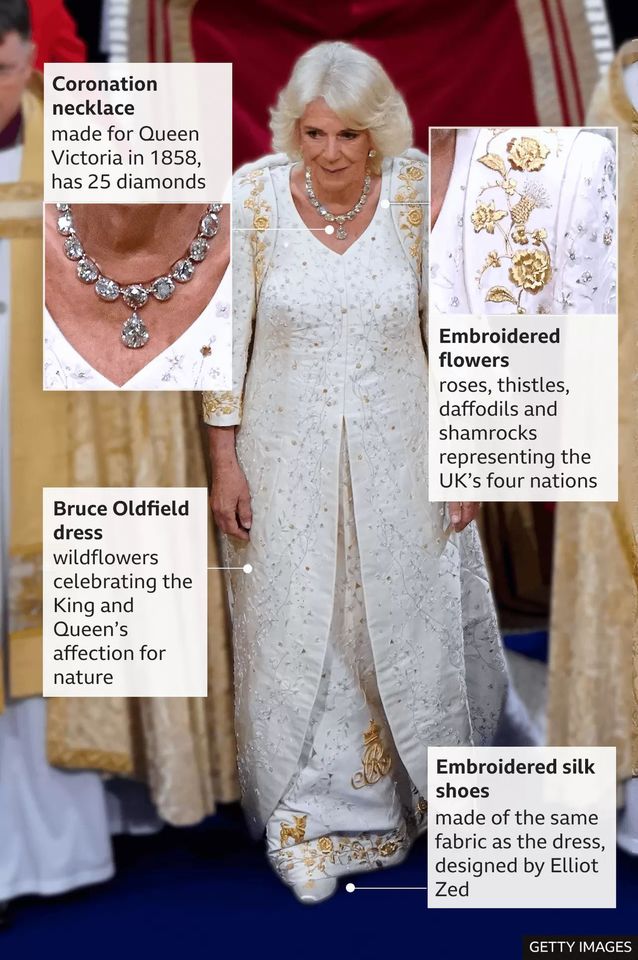 Cut from Peau de Soie, a matte silk fabric, and woven in Suffolk by Stephen Walters, the dress featured embroidery depicting garlands of wildflowers, said to represent the King and Queen's affection for nature and the British countryside. There was also celebratory bunting stitched in antique gold and silver thread.

The front hem of the underskirt and the dress's cuffs were embellished with the floral motifs of the four nations - which were also elements of Queen Elizabeth II's sparkling coronation dress in 1953, by couturier Sir Norman Hartnell.

Near the hem there appeared to be a pair of embroidered dogs - which may represent the Queen's beloved Jack Russell Terriers, Beth and Bluebell, however the Royal Household declined to comment about the significance of the embroidery animals.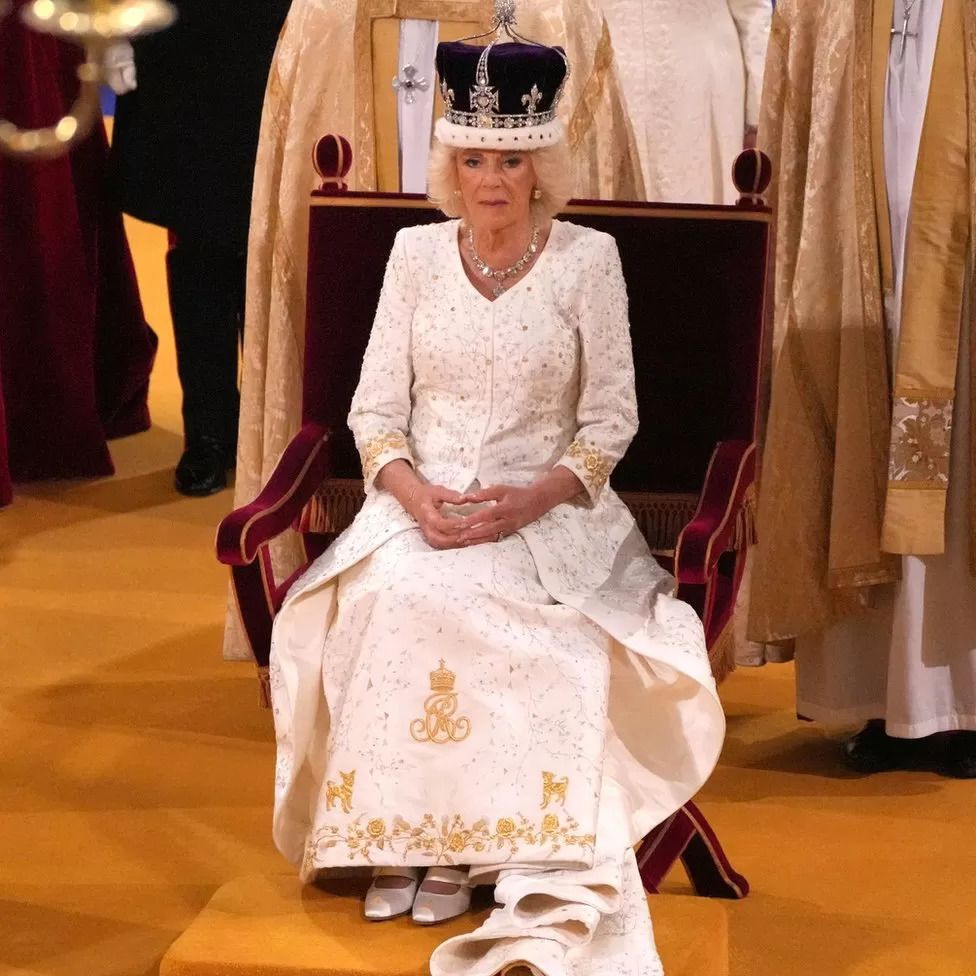 Queen Camilla was also wearing the Coronation necklace and earrings made for Queen Victoria by Garrard. Worn by several Queen consorts in history, as well as at the last coronation by Queen Elizabeth II, the platinum, gold and silver set necklace comprises gemstones removed from old garter badges and the hilt of a ceremonial sword.

Joanna Hardy says it was "very fitting... It's wonderful to see all these jewels being worn - so much nicer than seeing them in a glass cabinet".

Prince George, Princess Charlotte and Prince Louis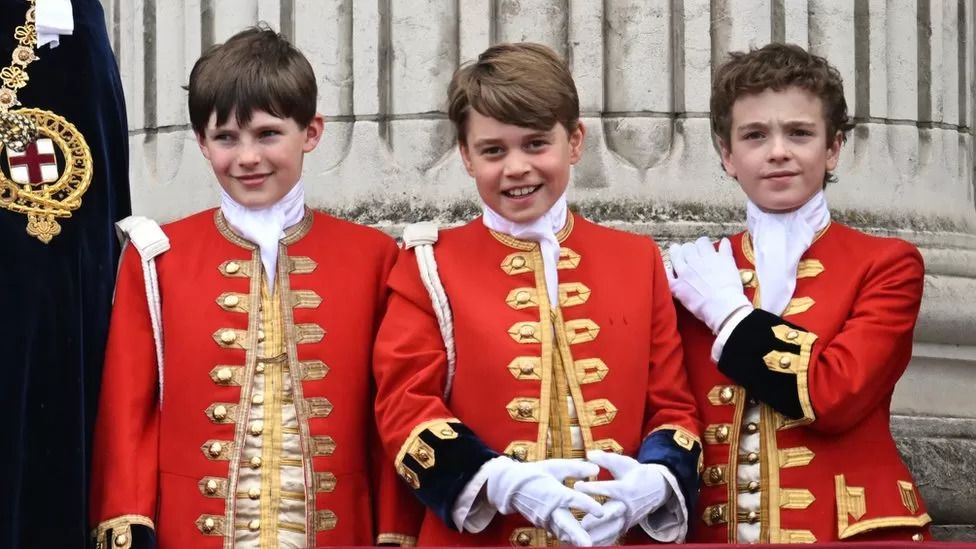 Prince George, one of King Charles's Pages of Honour, was wearing a traditional uniform. The nine-year-old's scarlet tunic was decorated with gold lace trim and blue velvet cuffs. He was also wearing an ivory silk satin waistcoat trimmed in gold braid.

Like her mother, Princess Charlotte was wearing an Alexander McQueen dress, with an ivory silk crepe cape embroidered with flowers signifying the four nations. The eight-year-old princess was also wearing a smaller version of the headpiece worn by Catherine, designed by Jess Collett x Alexander McQueen, which features three-dimensional leaf embroidery.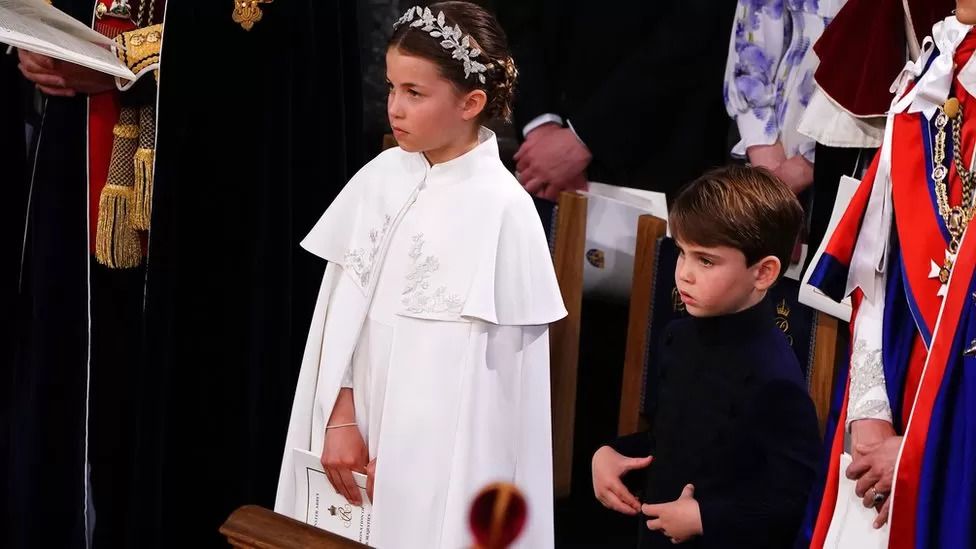 Five-year-old Prince Louis wore an outfit by Savile Row tailor, Dege and Skinner, which consisted of a blue doeskin tunic with specially designed lacework embellishing the collar, cuffs and fronts.