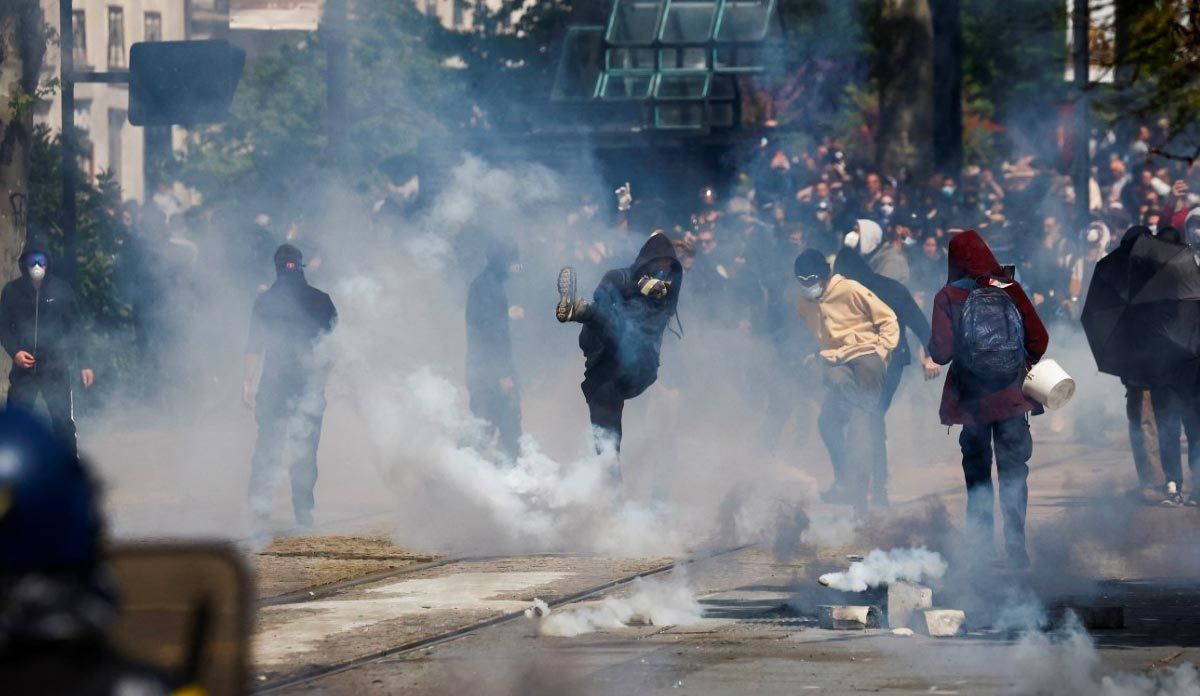 Tear Gas, Cops Injured: Over 782,000 Protest France's Pension Reforms
President Emmanuel Macron last month signed a law to raise the retirement age from 62 to 64, despite months of strikes against the bill.
Protesters clashed with security forces across France on Monday as hundreds of thousands of people took to the streets for Labour Day to vent their anger against President Emmanuel Macron's pension reform.

Unions had been hoping for a vast turnout nationwide to further rattle Macron, who has been greeted by pot-bashing and jeers as he toured the country seeking to defend the reforms and relaunch his second term.

Macron last month signed a law to raise the retirement age from 62 to 64, despite months of strikes against the bill.

At least 108 police were wounded and 291 people detained across France as violence erupted in several cities on the sidelines of the main union-led marches, Interior Minister Gerald Darmanin told reporters.

In Paris, radical protesters threw projectiles at police and broke windows of businesses such as banks and estate agents, with security forces responding with tear gas and water cannon, AFP correspondents said.

As police sought to disperse the protest at its end point, some individuals created a fire that spread to a building and prompted the fire service to intervene.


'Extremely rare'

Police had been given a last-minute go-ahead to use drones as a security measure after a Paris court rejected a petition from rights groups for them not to be used.

Security forces deployed tear gas in Toulouse in southern France as tensions erupted during demonstrations, while four cars were set on fire in the southeastern city of Lyon.

In the western city of Nantes, police also fired tear gas after protesters hurled projectiles, AFP correspondents said. The windows of Uniqlo clothing store were smashed.

Protesters briefly occupied the luxury InterContinental hotel in the southern city of Marseille, breaking flowerpots and damaging furniture.

"In many cities in France, this May Day was a moment for responsible mobilisation and commitment. The scenes of violence on the sidelines of the demonstrations are all the more unacceptable," Prime Minister Elisabeth Borne wrote on Twitter.

Darmanin added that such a high toll of police wounded was "extremely rare" for a May 1 protest day.

He said one policeman who was hit by a Molotov cocktail had received burns to the face and hands but his life was not in danger.

Some 782,000 people protested across France, including 112,000 in Paris alone, the interior ministry said. The CGT union said it counted 2.3 million protesters across France, including 550,000 in the capital.

The turnout was massively higher than May Day last year but smaller than the biggest protests seen against the pension reform this year.


'Still very strong'

Macron and his government have tried to move on from the months of popular discontent, hoping to relaunch his second term after the reform was signed into law.

"The page is not going to be turned as long as there is no withdrawal of this pension reform. The determination to win is intact," said CGT chief Sophie Binet at the Paris protest.

"The mobilisation is still very, very strong," added Laurent Berger, head of the CFDT union.

"It is a sign that resentment and anger are not diminishing."

Monday marked the first time since 2009 that all eight of France's main unions joined in calling for protests.


'Red card' to Macron

France has been rocked by a dozen days of nationwide strikes and protests against Macron and his pension changes since mid-January, some of which have turned violent.

When Macron attended the final of the French football cup on Saturday, he was met with activists waving red cards.

Almost three in four French people were unhappy with Macron, a survey by the IFOP polling group found last month.

Borne, with Macron's support, invoked in March the controversial article 49.3 of the constitution to ram the pension reform through parliament without a vote in the hung lower house.

In the Place de la Republique where the Paris march started, a huge vest with the slogan "Macron resign" was fixed to the giant statue symbolising the French republic at its centre.

"The law has been passed but has not been accepted, there is a desire to show discontent peacefully to have a reaction in response that shows a certain level of decency," said Celine Bertoni, 37, an academic in the central city of Clermont-Ferrand.

May Day demonstrations on a smaller and less fractious scale took place across Europe, including Spain where flag-waving demonstrators joined more than 70 rallies under the slogan: "Raise wages, lower prices and share profits".