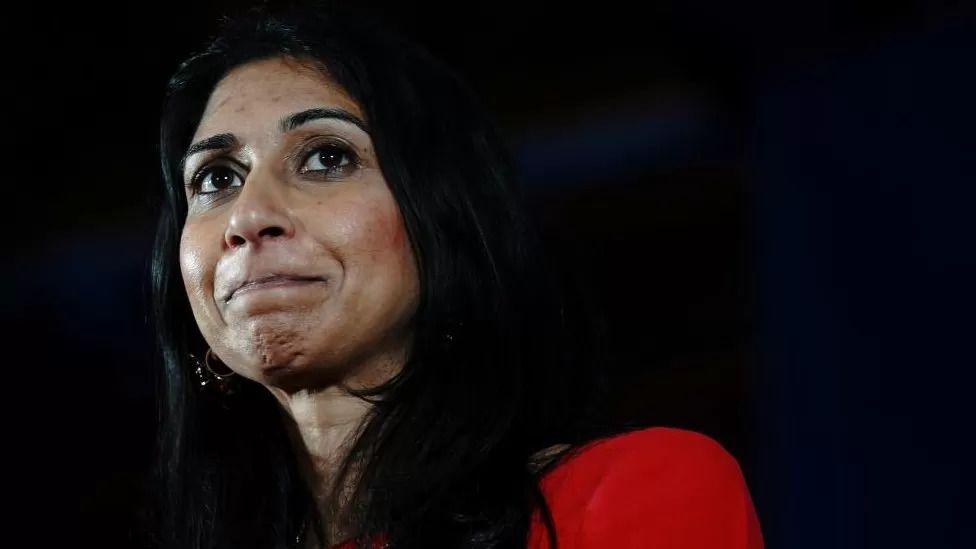 Suella Braverman speeding course claims prompt inquiry calls
Labour has called for an investigation after it emerged Suella Braverman sought advice about arranging a private speed awareness course.
The home secretary was caught speeding while she was attorney general last summer, and faced three points and a fine, or a course as part of a group.

She tried to arrange a private course via civil servants and her adviser, the BBC has been told.

A government source denied Mrs Braverman broke the ministerial code.

The reports, which first appeared in the Sunday Times, have triggered calls from opposition parties for an investigation by the prime minister's independent adviser on minister's interests.

After being caught speeding, Mrs Braverman was offered the choice of either a fine and three points on her licence, or a speed awareness course.

A government source told the BBC the senior minister was "concerned" about her insurance premiums, and favoured doing a speed awareness course.

She asked civil servants about arranging a private course, citing security concerns about doing one as part of a group, but was told it was not a matter for the Civil Service to get involved in.

Ms Braverman then asked a special adviser to try and arrange a one-to-one course.

When the course provider told her there was no option to do a private course - and after she was reappointed home secretary in Mr Sunak's government - she opted to pay the fine and accept the points, the BBC has been told.

The same government source refused to say whether Mrs Braverman's motivation to do the course in private was to reduce the chances of her being recognised by members of the public.

After serving as attorney general between February 2020 and September 2022, Mrs Braverman was promoted to home secretary under Liz Truss.

She resigned on October 19, but was reappointed to the same role by Mr Sunak six days later following the collapse of the Truss government.

Shadow home secretary Yvette Cooper said the reports "suggests she has tried to abuse her position to get round the normal penalties so it is one rule for her and another for everyone else".

Mrs Braverman and Mr Sunak "need to both urgently explain what has been going on, including what the prime minister knew when he reappointed her", she added.

Ms Cooper called for an "urgent investigation into what has gone on here", saying the PM's ethics adviser Laurie Magnus should examine "how this is possibly compatible with the ministerial code".

Alistair Carmichael, the Liberal Democrats' home affairs spokesman said Ms Braverman "should be urgently investigated by the ethics adviser and add her name to the near endless list of ministers who have had to undergo the same".

A source close to the home secretary said: "Mrs Braverman accepted three points for a speeding offence which took place last summer.

"The Cabinet Office was made aware of the situation as requested by Mrs Braverman. She was not and is not disqualified from driving."

A Cabinet Office spokesman said: "It would not be appropriate to comment on the existence or content of advice between Government departments."