In his first speech as PM, Rishi Sunak vowed to restore trust and lead the UK through "a profound economic crisis" that he, as a Chancellor, created.
Rishi Sunak has pledged to fix "mistakes" made under Liz Truss's leadership and warned of "difficult decisions" ahead, in his first speech as prime minister.

He said he would restore trust, rebuild confidence and lead the UK through "a profound economic crisis".

Mr Sunak promised to deliver the manifesto that won the Conservatives a landslide election victory in 2019.

His speech outside No 10 came after he was appointed PM by King Charles.

The UK's first British Asian prime minister, Mr Sunak announced his cabinet this afternoon, after telling Tory MPs to unify or face electoral oblivion.

In major reshuffle, Dominic Raab returned as deputy PM, and Grant Shapps became business secretary, while Jeremy Hunt remained as chancellor.

A large majority of MPs backed Mr Sunak for the leadership and when his only remaining rival Penny Mordaunt withdrew, there was no need for a ballot of Tory members.

Following Mr Sunak's speech, opposition parties repeated their demand for an immediate general election and argued Mr Sunak had no mandate from the public.

Mr Sunak's effective coronation as Tory leader on Monday spelled the end of Ms Truss's turbulent premiership, just 49 days after she took office.

Ms Truss became prime minister after defeating Mr Sunak in a ballot of Tory members during the summer, winning over members with her tax-cutting economic agenda.

But her government was destabilised by political and economic turmoil, exacerbated by her mini-budget, whose package of unfunded tax cuts has mostly been ditched.

In her farewell speech, Ms Truss defended her economic policies and said her time as prime minister convinced her of the need to be "bold".

In his own speech, Mr Sunak paid tribute to his predecessors Boris Johnson and Ms Truss, saying she "was not wrong to want to improve growth in this country - it is a noble aim".

"But some mistake were made," Mr Sunak said. "Not born of ill will or bad intentions, quite the opposite, in fact. But mistakes nonetheless.

"I have been elected as leader of the party and as prime minister in part to fix them. And that work begins immediately."

Mr Sunak - who was chancellor until July this year - said he would place "economic componence and stability at the heart of this government's agenda", warning that "will mean difficult decisions to come".

He gave no details about what those decisions were, but how to fund support for energy bills, and bring down government debt, are likely to be among them.

Mr Sunak is expected to cut public spending to plug an estimated £40bn hole in the public finances.

On his first day in office Mr Sunak spoke to Ukrainian President Volodymyr Zelensky "to underline the United Kingdom's steadfast support for Ukraine", a Downing Street spokesman said.

United States President Joe Biden said "that the UK remains America's closest ally" in another call, according to Downing Street.

The prime minister and President Biden also agreed to "preserve" the Good Friday peace deal, which set up power sharing in Northern Ireland.

It comes amid an ongoing row over the Northern Ireland Protocol - part of the post-Brexit deal between the UK and EU.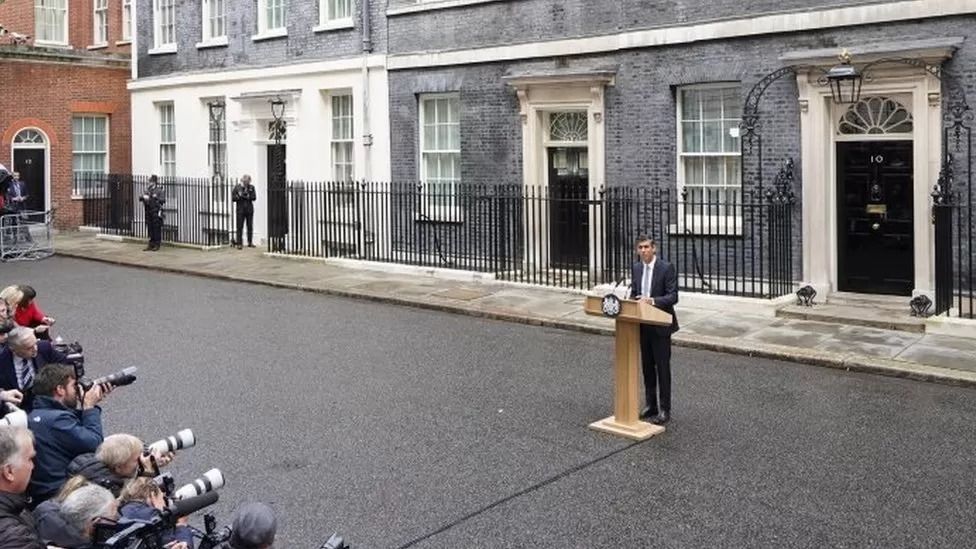 Prime Minister Rishi Sunak vowed to "fix" errors made by his predecessor, Liz Truss

Mr Sunak also spoke to the first minister of Scotland, Nicola Sturgeon, and of Wales, Mark Drakeford.

Ms Sturgeon said that the call with Mr Sunak had been "constructive", and Downing Street said Mr Sunak had emphasised their "duty" to work closely together.

Mr Drakeford said the call had been a chance to "discuss the importance of working together as four nations" to address the "urgent challenges" faced by the UK.

The economic challenges ahead for Mr Sunak loomed large in his speech, which he delivered in a solemn tone, outside his new residence at Downing Street.

He appeared on his own without his wife, Akshata Murty, and two daughters beside him.

He reminded the public of his decisions when he was chancellor during the Covid-19 pandemic, including the furlough scheme to help employers pay their staff.

While "there are always limits", Mr Sunak said, "I promise you this: I will bring that same compassion to the challenges we face today."

Other than a brief, television statement on Monday evening, this was the first the public had heard from Mr Sunak since he was elected Tory leader.

The 42-year-old former hedge fund boss, who has only been an MP for seven years, enters office at a time when his party is cratering in the polls.

As the party searched for its third leader this year, Mr Sunak's former boss - Mr Johnson - insisted he was the only person who could unite the Conservatives and win the next election.

Mr Johnson, who only resigned as prime minister in September, ultimately withdrew from the Tory leadership contest, admitting it was not the "right time" for a comeback.

Mr Sunak reflected on Mr Johnson's "incredible achievements" in his speech, but downplayed his sole ownership of the party's 2019 election victory.

The prime minister said "the mandate my party earned in 2019 is not the sole property of any one individual - it is a mandate that belongs to and unites all of us".

"And the heart of that mandate is our manifesto," he said. "I will deliver on its promise."

If Mr Sunak moves too far away from his party's 2019 manifesto - which promised to "level up" the country - calls for an early general election may grow louder.

The next one is not due to take place until January 2025, at the latest, and Mr Sunak is under no obligation to hold one earlier under the UK's parliamentary system.

But Liberal Democrat leader Sir Ed Davey said Mr Sunak's refusal to call a general election showed his party "does not trust the British people", who "will be rightly furious that they have been denied a say".

Labour Party chairwoman Anneliese Dodds said the country needed "a fresh start" after "12 years of Conservative failure", which Mr Sunak had been part of.

In a meeting with his shadow cabinet this morning, Labour leader Sir Keir Starmer warned his party against complacency, calling Mr Sunak a "ruthless" political operator.

Sir Keir said Mr Sunak "will not deliver for working people" and told his MPs to "ignore the noise", even if the new prime minister gives the Tories "a significant poll bounce".
WATCH: Sunak on Truss: "Some mistakes were made"