Prince Harry, Meghan and her mother were involved in a "near catastrophic car chase" involving paparazzi, a spokesperson for the couple claimed.
The incident happened after the Duke and Duchess of Sussex attended an awards ceremony in New York on Tuesday.

In a statement, their spokesperson said the "relentless pursuit" lasted for more than two hours and resulted in "multiple near collisions".

The New York Police Department (NYPD) said there were no arrests or injuries.

BBC News has not been able to independently verify all the details. But accounts and information developed throughout the day on Wednesday.

The NYPD confirmed an incident took place involving Harry and Meghan and said numerous photographers "made their transport challenging".

No injuries or arrests were reported, the police said. Buckingham Palace has not yet commented.

There are claims the chase involved half a dozen cars, with reckless driving including going through red lights, driving on the pavement, carrying out blocking moves, and reversing down a one-way street - as well as taking photographs while driving.

BBC News understands Harry and Meghan were staying at a friend's home, and did not return directly to avoid compromising their security.

The couple and Meghan's mother, Doria Ragland, tried to take shelter from the paparazzi by going to a Manhattan police station.

There was then a plan to use a New York taxi, with a yellow cab flagged down and Harry, Meghan, Ms Ragland and a security officer getting inside.

But the vehicle and its occupants were spotted by photographers and they reverted to their own security vehicles.

Cab driver Sukhcharn Singh, who goes by the name Sonny, told BBC News he picked up the four passengers on 67th Street between Lexington Avenue and 3rd Avenue.

"A security guard hailed me, next thing you know Prince Harry and his wife were hopping into my cab," he said.

"As we went a block, we got blocked by a garbage truck and all of a sudden paparazzi came and started taking pictures. They were just about to give me the location of where they were going to go, but then they told me to circle back to the precinct."

He said they were "nice people" who "looked nervous".

He thought claims of a "near catastrophic chase" might have been exaggerated, saying that he did not think the paparazzi were being "aggressive".

"New York is the safest place to be - there's police stations, cops on every corner," he said.

"[The paparazzi] were behind us... they kept their distance."

The passengers paid $50 (£40) for the short journey, he added. Mr Singh's account relates to just 10 minutes of what the Sussexes' spokesperson described as an ordeal lasting more than two hours.

The driver's assessment stands in contrast to that of Chris Sanchez, a member of the couple's security detail, who told CNN the scene was "very chaotic" and that photographers at one point blocked the limousine carrying Harry and Meghan.

"The public were in jeopardy at several points," he said. "It could have been fatal."

The couple use private security while in the US - but Harry is engaged in a legal battle in London over the use of Metropolitan Police protection while he and his family are in the UK.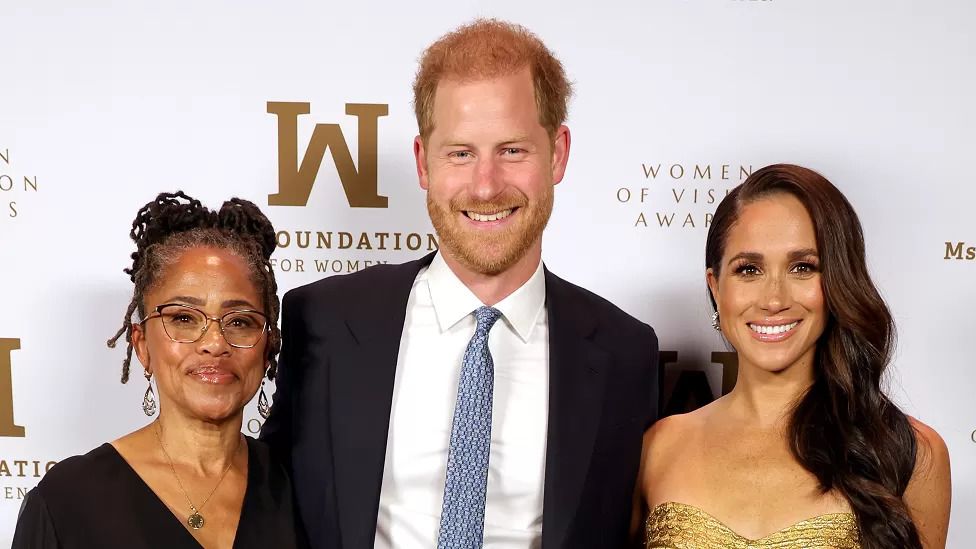 Meghan appeared alongside her husband and mother to accept an award at the event in New York City

The award ceremony they attended - the Ms Foundation Women of Vision Awards - was Harry and Meghan's first public appearance together since the King Charles' Coronation earlier this month.

Meghan accepted an award at the event alongside LaTosha Brown, the co-founder of Black Voters Matter.

New York City Mayor Eric Adams told reporters that two police officers "could have been injured" and that it "would be horrific to lose an innocent bystander during a chase like this".

Prince Harry and Meghan's statement had never claimed there was a high-speed chase. But it did reference a "relentless pursuit" for more than two hours.

Duncan Larcombe, the author of the book Prince Harry: the Inside Story, told BBC News it appeared "something has gone extremely wrong" with Harry and Meghan's security in the US.

"This will come as a huge surprise for people who used to look after Harry in the UK," he said. "There are huge questions to be asked about whether the paparazzi can still operate in this way."

Prince Harry's mother, Princess Diana, was killed in a 1997 car crash in Paris while being chased by photographers.

In an interview with the BBC for the documentary Diana, 7 Days, Prince Harry referred to the paparazzi as "a pack of dogs" who constantly hounded his mother.

"Every single time she went out there'd be a pack of people waiting for her," he said. "I mean a pack of dogs, followed her, chased her, harassed her, called her names, spat at her, trying to get a reaction, to get that photograph of her lashing out."

Prince Harry is currently involved in multiple legal disputes with the British tabloid press, including allegations of phone hacking and the unlawful gathering of information.

Earlier this week, a lawyer for the prince told a London court that he should be allowed to challenge a government decision that denied him the ability to pay for police protection while in the country.

The pair stepped down from royal duties and moved to the US in 2020 - a move they said was partly due to harassment from UK tabloids.

Prince Harry has described his battle to change the media as his "life's work". Next month he will appear in a London court to give evidence in a phone hacking case.