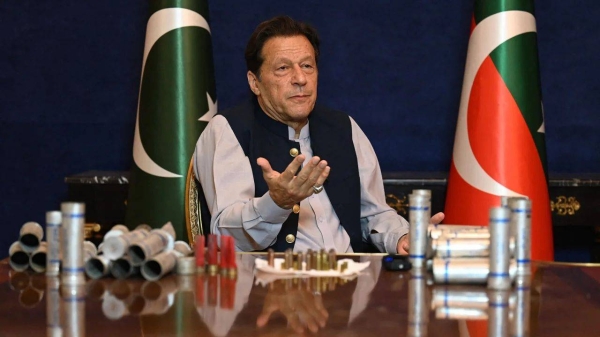 Pakistan's former Prime Minister Imran Khan arrested
Pakistan's former Prime Minister Imran Khan was arrested Tuesday in the capital Islamabad, his party and local media reported.
Khan was taken into custody by the country's paramilitary troops, Rangers, from the Islamabad High Court where he was attending the hearing of his bail application, his spokesman Iftikhar Durrani told Anadolu news agency.

"Yes, he has been arrested after being manhandled," Durrani confirmed, claiming that the ex-premier had secured bail in all the cases against him.

Khan's Pakistan Tehreek-e-Insaf (PTI) party alleged that the former cricket star turned politician was "abducted" from the court premises.

"Former PM Imran Khan has been abducted from Court premises. Scores of lawyers and common people have been tortured," Khan's aide Fawad Chaudhry said in a tweet.

The development comes days after Khan accused a senior intelligence officer of conspiring to kill him.​​​​​​​

Local broadcaster Dunya News reported that Khan was taken into custody after the country's anti-corruption body National Accountability Bureau (NAB) issued an arrest warrant for him in a land scam.

Khan's wife, Bushra Bibi is also named in the case related to illegal procurement of a piece of land for a Al-Qadir University trust, of which the two are main trustees.

Interior Minister Rana Sanaullah and Islamabad police also confirmed the arrest, adding that the former premier was transferred to NAB headquarters in the nearby Rawalpindi garrison city.

Last year, Khan lost a vote of confidence in parliament, after which he stepped down as prime minister.

After launching a series of accusations against the country's powerful military including its former army chief, Khan survived an assassination attempt last November.

He was also named in a plethora of corruption cases, which his supporters say are politically motivated.