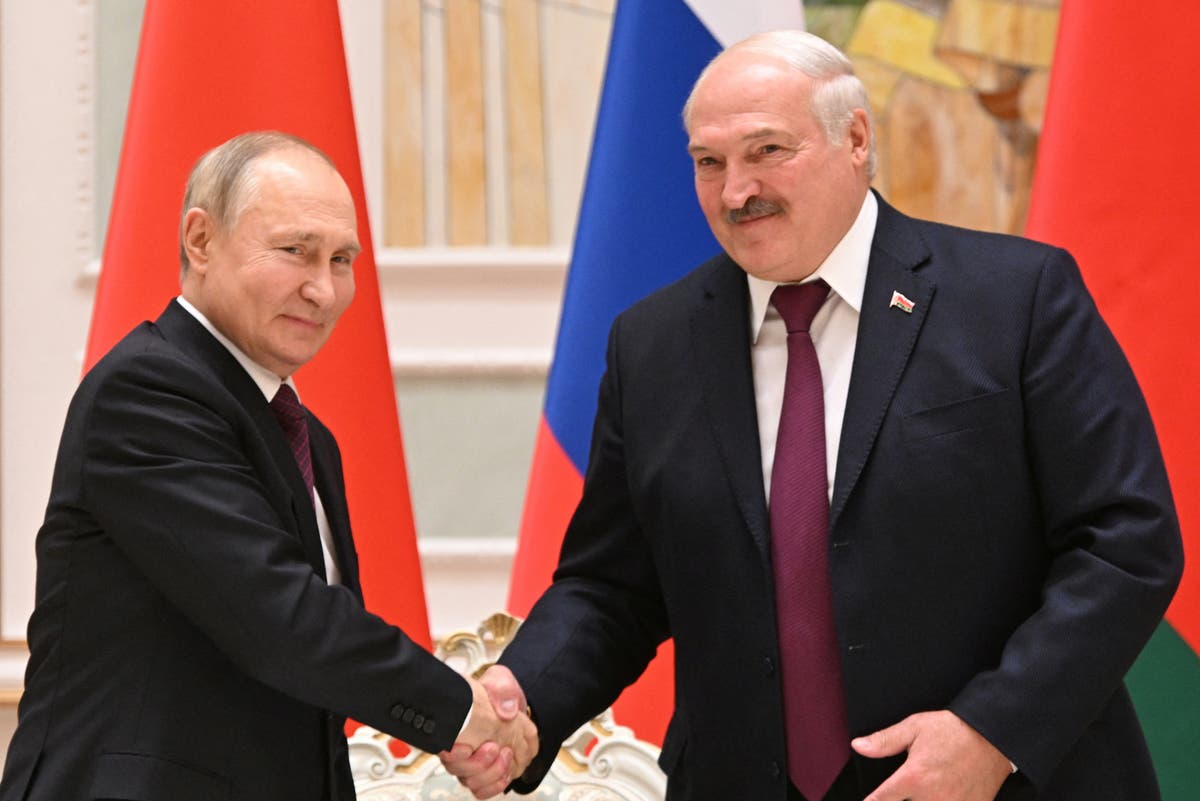 Nato condemns Putin for 'dangerous and irresponsible' nuclear rhetoric
Putin has announced plans to station nuclear weapons in Belarus
Nato has criticised Vladimir Putin for his "dangerous and irresponsible" nuclear rhetoric a day after he announced plans to station nuclear weapons in Belarus.

The Russian president said Moscow will station tactical nuclear weapons in Belarus, the first time it has stationed the weapons outside its country since the mid-1990s.

He claimed it was similar to the US stationing weapons in Europe.

But Nato, the military alliance of Western countries, said: "Russia's reference to Nato's nuclear sharing is totally misleading.

"Nato allies act with full respect of their international commitments. Russia has consistently broken its arms control commitments."

The move will likely further heighten tensions between the West and Russia, with Ukraine calling for an extraordinary meeting of the UN Security Council in response.

However Nato said: "We have not seen any changes in Russia's nuclear posture that would lead us to adjust our own."

The European Union joined the chorus of condemnation on Sunday, with its foreign policy chief Josep Borrell urging Belarus not to host the weapons and threatening further sanctions.

Lithuania, which neighbours Belarus, also said it would call for new sanctions against Moscow and Minsk over the plans.

Mykhailo Podolyak, another senior adviser to Ukraine's president Volodymr Zelensky said it was evidence that Putin is "afraid of losing".

Tactical nuclear weapons refer to those used for specific gains on a battlefield rather than those with the capacity to wipe out cities.

While Belarus is not formally involved in the war in Ukraine, Minsk and Moscow have close military ties.

Minsk allowed Moscow to use Belarusian territory to send troops into Ukraine last year.

Putin on Sunday also denied Moscow was creating a military alliance with China, after a visit from Chinese leader Xi Jinping earlier this month.

Ukrainian presidential chief of staff Andriy Yermak said Sunday Russian forces had destroyed two apartment buildings in a missile strike on the eastern city of Avdiivka in the Donetsk region.

He said there were no casualties.

Ukrainian officials said Sunday it had repelled 85 Russian attacks over the past 24 hours across the eastern front, including the Bakhmut area, the scene of brutal fighting in the last few months.