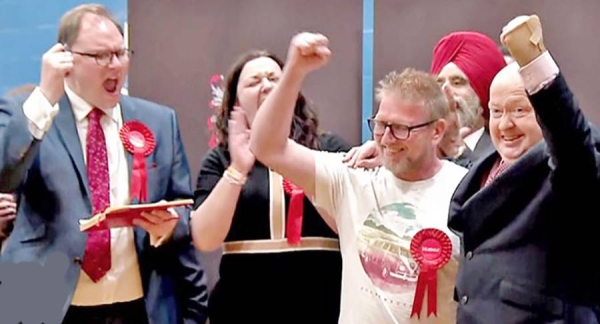 Labour and Lib Dems take seats from Tories in England local elections
Labour and the Lib Dems made gains at the expense of the Conservatives across England, as local election results rolled in.
Heavy Conservative local election losses represent a "clear rejection" of Rishi Sunak in his first electoral test as prime minister, Labour has said.

Labour leader Sir Keir Starmer claimed his party was on course to win the next general election, expected next year.

The Tories lost 48 councils and more than 1,000 councilors across England in Thursday's polls, exceeding their worst predictions.

Many Tories were angry at the scale of the losses, with some blaming Sunak.

Labour said it is now the largest party in local government, surpassing the Tories for the first time since 2002.

"The British public has sent a clear rejection of a prime minister who never had a mandate to begin with," a Labour spokesperson said.

The Liberal Democrats had what their leader Sir Ed Davey said was their "best result in decades", taking control of 12 councils, mostly in Tory heartlands. The party gained 405 new councilors, compared with Labour's 536 gains.

The Green Party gained 241 seats — their best-ever result in local elections — and gained its first majority on an English council, in Mid-Suffolk, although they were overtaken as the biggest party by Labour in Brighton and Hove.

Sunak admitted the results were "disappointing", but said he did not detect "a massive groundswell of movement towards the Labour Party or excitement for its agenda".

Sir Keir claimed the "fantastic" results showed his party was well placed to oust the Tories from government in a general election, expected next year.

Labour won control in Swindon, Plymouth, Medway and Stoke-on-Trent — a former Labour stronghold. And the Lib Dems have won control of five councils from the Conservatives, including Windsor and Maidenhead.

Earlier, the prime minister said it was disappointing to lose Conservative councilors, but added his party was making progress in "key election battlegrounds" like Peterborough, Sandwell and Bassetlaw.

Education Minister Robert Halfon said this year's election was always "going to be difficult" for his party.

He said internal Tory Party divisions "didn't help" but claimed the losses were down to external factors, such as the cost-of-living crisis and problems in the NHS.

"Every government during the mid-term, especially a government that has been in power for 13 years, always suffers losses in local elections," he said.

But he added that Sunak had "restored unity to the party" and "restored stability to the country, particularly in the economy".

Some Tory MPs were clearly worried about the results, with several telling the BBC that apathy — Conservative voters staying at home — was also a big problem.

Labour leader Sir Keir traveled to Medway to celebrate his party's victory in the Kent council with local activists.

"You didn't just get it over the line, you blew the doors off," he told the crowd.

He claimed Labour were "on course" to win a majority at the next general election.

Labour has taken control of three councils from the Conservatives including Swindon. The council was a key target for Labour and where the party launched their election campaign.

The council had not been won by Labour since 1999, and the party now has its sights set on taking the area's two parliamentary seats from the Conservatives.

Liberal Democrat Leader Sir Ed told the BBC he had a "Cheshire-cat" grin on his face following what he said had been a "ground-breaking night" for his party.

Speaking in Windsor, where his party took control of the council from the Conservatives, Sir Ed said: "The Liberal Democrats are the big winners in this year's local elections.

"I'm so proud that when Katy Perry and Lionel Richie enter Windsor Castle for the coronation concert on Sunday, they'll be going into a ward that's represented by three brand new Liberal Democrat councilors."

The Liberal Democrats have also taken control of Dacorum, which was won by the Conservatives in 2019, and Stratford-on-Avon.

The Green Party has won outright control of its first council in Mid Suffolk and made record gains across England as a whole.

Party co-leader Carla Denyer said her party were benefitting from "a deep dislike of the Tories and Starmer's uninspiring Labour". The Greens have also become the largest party on East Hertfordshire Council.

In Middlesbrough, Labour's Chris Cooke became mayor beating the incumbent independent candidate, while Mansfield and Leicester voted for Labour mayors.

Elections are not taking place in London, Scotland or Wales. Council elections in Northern Ireland have been moved back to Thursday May 18 because of the coronation of King Charles III.