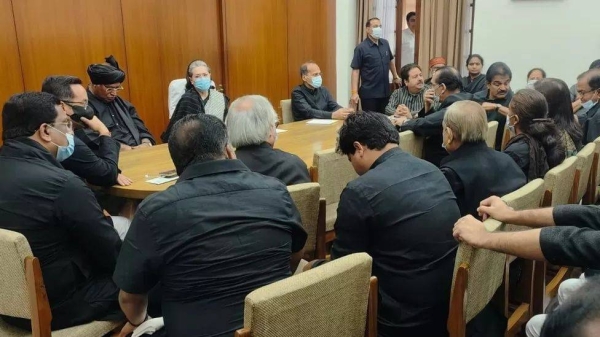 India's Congress party holds countrywide protests over leader's disqualification
Leaders of India's main opposition party Congress are holding nationwide protests against the disqualification of their leader Rahul Gandhi from parliament.
Gandhi was removed as an MP last week after he was sentenced to two years in prison in a defamation case.

He was convicted by a court for 2019 comments about PM Narendra Modi's surname at a election rally.

The Congress has criticised the action as politically motivated.

But the ruling Bharatiya Janata Party (BJP) has denied the allegations and said Mr Gandhi's expulsion conformed with parliamentary rules.

On Monday, hundreds of Congress leaders held protests against Mr Gandhi's disqualification in Delhi for a second day.

Protests were also held in states of Himachal Pradesh, Rajasthan, Telangana, Punjab, Haryana and Gujarat where party workers held rallies.

In Delhi, leaders from a swath of India's opposition parties joined the demonstrations held inside Parliament premises.

Several of them wore black clothes to the House in what was the first sitting of the Lok Sabha - the lower house of parliament - since Mr Gandhi's disqualification last week.

Protests continued even inside parliament, leading to several adjournments during the day.

Ahead of the session, Congress MP Pramod Tiwari accused the Bharatiya Janata Party (BJP) and Prime Minister Narendra Modi of stifling dissent in the country.

"When we speak in Parliament, they don't let the House function," Mr Tiwari said. "When we speak outside, they take [a]decision that leads to disqualification [of party leaders]."

Gandhi was a Congress party MP from Wayanad in the southern state state of Kerala.

The 52-year-old leader is the scion of a Nehru-Gandhi dynasty that has given India three prime ministers - and his disqualification comes ahead of the 2024 general elections in India.

He remains on bail for 30 days and has said he will appeal the verdict given by a court in Gujarat state.

While Mr Gandhi has called the action against him politically motivated, his supporters say his disqualification is a sign that India's democratic system is weakening.

On Sunday, Mr Gandhi's sister Priyanka Gandhi Vadra said her brother was being targeted because he has been asking Prime Minister Narendra Modi tough questions about his relationship with Gautam Adani, founder of the Adani conglomerate.

The huge conglomerate was accused of decades of "brazen" stock manipulation and accounting fraud by US-based short-seller Hindenburg Research earlier this year. The Adani Group has denied allegations of financial fraud.

Speaking at a day-long protest held by Congress, Ms Vadra said Mr Modi was a "coward" and accused him of "hiding behind his power".

"File a case on me, put me in jail too, but this is the truth," she said.

Ms Vadra added that her party would continue their fight against the BJP.

"My family has nurtured the democracy of this country with their blood. Those who think they can threaten us by insulting us or use central agencies against us, are wrong. We are not going to be threatened," she said.

Meanwhile, several opposition MPs have filed notices in the Parliament, renewing calls for an investigation into the Adani Group.