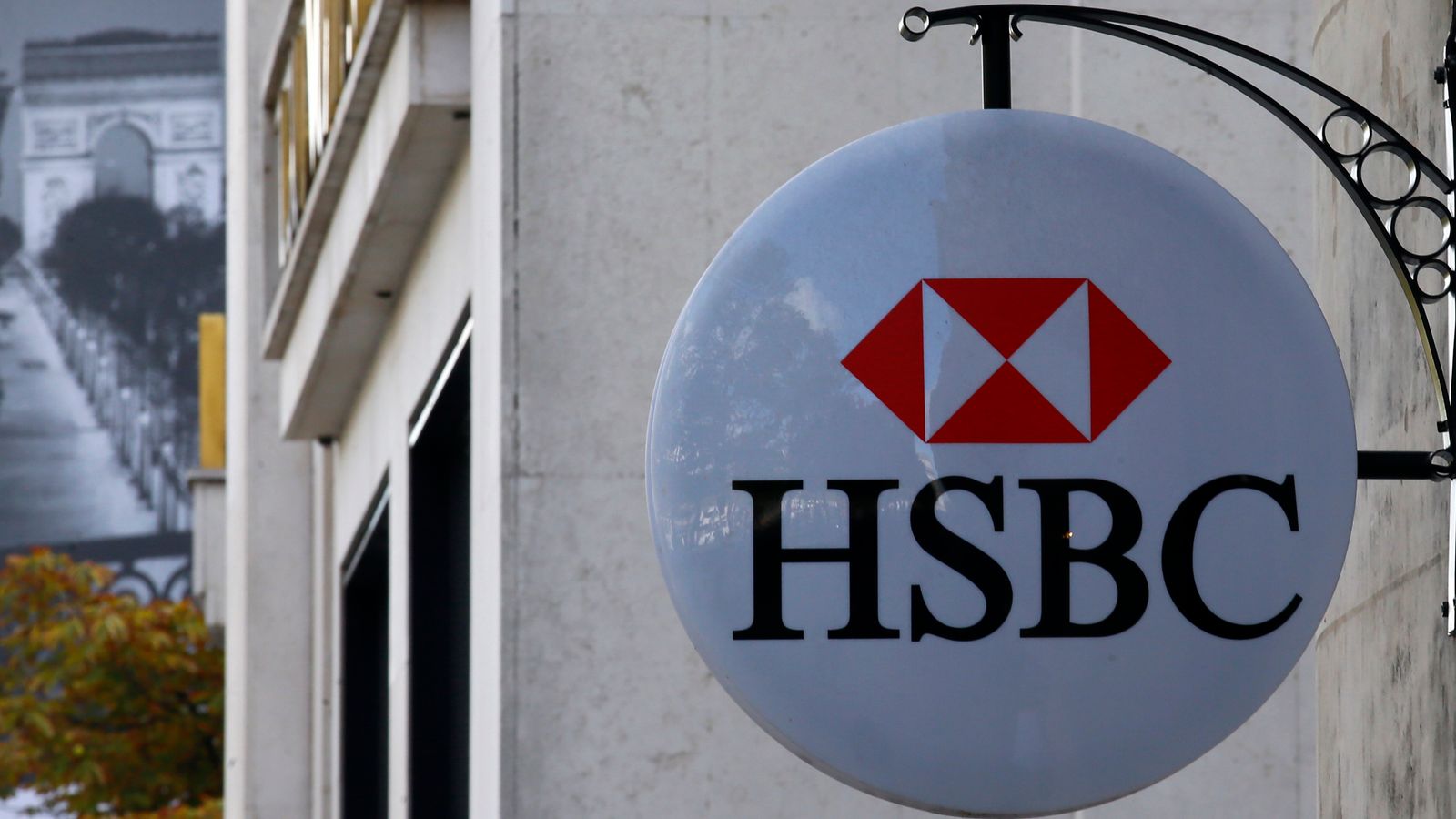 Higher interest rates help HSBC triple profits and resume quarterly dividends
The UK-based bank says it has put a "provisional gain" of $1.5bn on the acquisition of Silicon Valley Bank UK, for just £1, last month.
The UK-based bank says it has put a "provisional gain" of $1.5bn on the acquisition of Silicon Valley Bank UK, for just £1, last month.

HSBC has reported a trebling of first quarter profits, aided by higher interest rates.

Europe's largest bank, which is based in the UK, said its performance meant it was able to pay its first quarterly dividend since 2019.

Pre-tax profits came in at $12.9bn (£10.3bn) between January and March compared to $4.2bn (£3.4bn) in the same period last year.

The figure smashed financial market expectations of a sum closer to $8.7bn ($7bn).

Revenue rose 64% to just over $20bn ($16bn) as net interest income shot up on the back of the interest rate increases.

UK rivals NatWest and Barclays have already reported a similar benefit as central banks continue to bear down on soaring inflation.

HSBC also credited a "provisional gain" of $1.5bn (£1.2bn) on the acquisition, for £1, of Silicon Valley Bank UK (SVB UK) in March when its US parent collapsed.

Sky News has since reported how the takeover prompted a big inflow of deposits at SVB UK - a vital cog for thousands of tech-related start-ups.

HSBC, which is expected to change the name of its new UK business in the coming months, said group profits were boosted too by the reversal of a $2bn (£1.6bn) provision it had taken against the planned sale of its French business.

That reflected the fact that the deal may no longer go through as the buyer has concerns over capital buffers at the French business.

HSBC rewarded shareholders with a new cycle of buybacks of up to $2bn and said a dividend of $0.10 per share would be paid.

Hong Kong-traded shares were 3% higher in the wake of the performance.

Chief executive Noel Quinn told investors: "With the good momentum we have in our business, we expect to have substantial future distribution capacity for dividends and share buy-backs.

"We remain focused on continuing to improve our performance and maintaining tight cost discipline, but we also saw an opportunity to invest in SVB UK to accelerate our growth plans.

"For 158 years, HSBC has banked the entrepreneurs who have created today's industrial base. With the SVB UK acquisition, we have access to more of the entrepreneurs in the technology and life sciences sectors who will create the businesses of tomorrow.

"We believe they're a natural fit for HSBC and that we're uniquely placed to take them global."