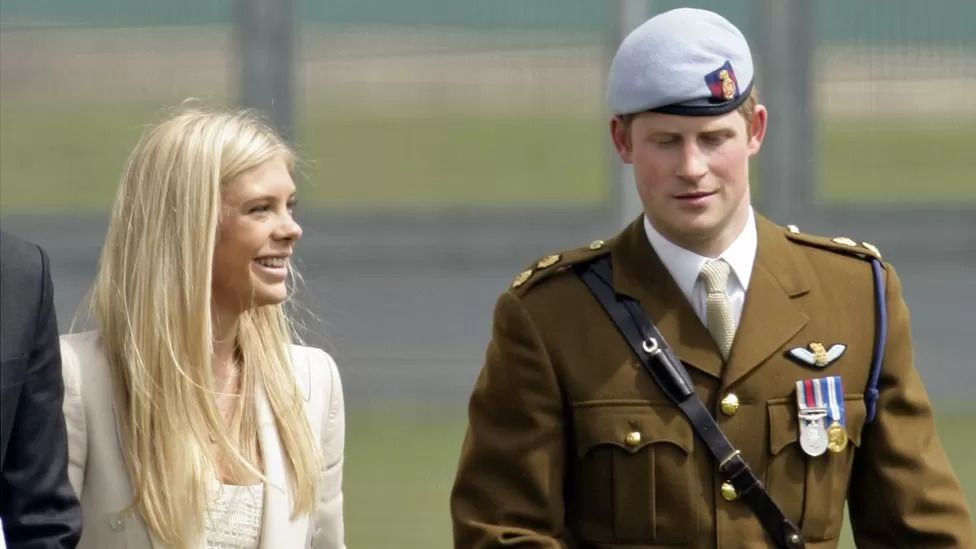 Harry blames press intrusion for Chelsy break-up
The Duke of Sussex has blamed alleged illegal intrusion into his private life by journalists for the break-up of his relationship with Chelsy Davy.
In a witness statement, Prince Harry claimed Ms Davy decided that "a royal life was not for her" following repeated acts of harassment.

The claims emerged in a High Court case against Mirror Group Newspapers brought by several high profile figures.

MGN denies allegations of voicemail interception in the cases.

It also claimed some of the cases being brought are beyond a legal time limit.

Ms Davy and Prince Harry were in an on-off relationship between 2004 and 2010.

In a summary of his witness statement, the duke's lawyers alleged unlawful activity "caused great challenges" in the relationship, and led Ms Davy to decide that "a Royal life was not for her".

This included journalists booking into a hotel in Bazaruto, a small island off the coast of Mozambique, where Harry and Ms Davy had tried to escape to in order to "enjoy some peace and quiet", the document reads.

The lawyers also said that mobile phonecalling data to be used in the trial shows that Ms Davy was targeted for voicemail interception between 2007 and 2009.

The activities caused him "huge distress" and "presented very real security concerns for not only me but also everyone around me", he said, adding that they also created "a huge amount of paranoia" in future relationships.

"Every time he was in a relationship, or even a rumoured relationship, that whole person's family, and often their friends, would be 'dragged into the chaos' and find themselves the subject of unlawful activity on the part of MGN," lawyers said.

Prince Harry's lawyers allege that his mobile phone number was recorded in a handheld device belonging to "prolific hacker and head of news at the Sunday Mirror" Nick Buckley.

The prince is also expected to allege that he experienced what was, in hindsight, voicemail interception in relation to 30 people with whom he had a close relationship.

He is expected to give evidence in June - the first time a senior royal will be a witness in court in modern times.

MGN has not admitted to any of the charges, although it said it "unreservedly apologises" for a separate instance of unlawful information-gathering against Harry and said that the legal challenge brought by the prince "warrants compensation".

The article that incident referred to - regarding an MGN journalist instructing a private investigator to unlawfully gather information about Harry's activities at the Chinawhite nightclub on one night in February 2004 - is not one of the claims being brought by the prince.

MGN said it would never be repeated.

In written submissions, MGN's barrister, Andrew Green KC, said the publisher denied that 28 of the 33 articles in Harry's claim involved phone hacking or other unlawful information gathering.

He said that stories came from a variety of other sources - including other members of the Royal Family.

Mr Green added that it was "not admitted" that five of the 33 articles contained unlawful information gathering.

Other celebrities have brought claims against MGN, with "test cases" - including Prince Harry's - selected to go to trial from the wider group of claimants.

They include that of former Coronation Street actress Nikki Sanderson, comedian Paul Whitehouse's ex-wife Fiona Wightman and actor Michael Turner - who played Kevin Webster in Coronation Street and goes by his stage name Michael Le Vell. All are expected to give evidence during the six- to seven-week trial.

The court heard that Ms Sanderson felt like she was "public property" and experienced abuse in the street following "false insinuations" in articles published by MGN.

"[She had] people shouting at her in the street calling her a 'whore', 'slag' or 'slut' and even being physically assaulted on numerous occasions," barrister David Sherborne said.

Mr Turner was accused by fellow cast members of being a "mole" amid alleged phone hacking, the court heard.

The hearing is focusing on what senior executives at MGN knew about alleged phone hacking - including TV host Piers Morgan, who was editor of the Daily Mirror between 1995 and 2004.

Mr Sherborne told the court that unlawful information gathering was both habitual and widespread at three papers - the Mirror, Sunday Mirror and Sunday People - between 1991 and 2011.

He described "a flood of illegality", adding that "this flood was being authorised and approved of" by senior executives.

The barrister also accused executives of misleading the Leveson inquiry - the inquiry into the practices, culture and ethics of the press - something it denies.

In written arguments, Mr Sherborne said it was "inconceivable" that Mr Morgan and other editors did not know about MGN journalists instructing private investigators to obtain information.

"The systemic and widespread use of PIs [private investigators] by MGN journalists to unlawfully obtain private information was authorised at senior levels," Mr Sherborne, who is also representing the duke, said.

Mr Morgan has repeatedly denied any knowledge of phone hacking or illegal activity at the Daily Mirror when he was editor.

"I've never hacked a phone. I've never told anybody to hack a phone," he told the BBC's Amol Rajan in aninterview conducted before the trial began.

MGN has previously settled a number of claims against it in relation to stories obtained through unlawful means.