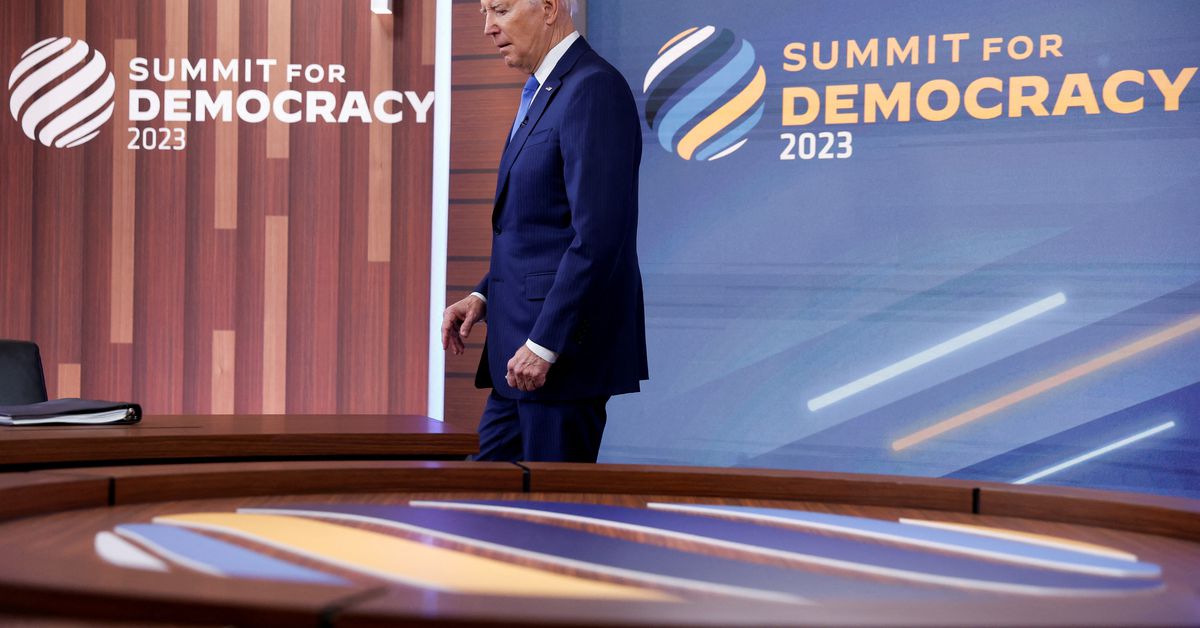 Biden aims to lift democracies with more funds despite questions over effectiveness
U.S. President Joe Biden announced new funding to bolster democracies around the world at a meeting on Wednesday, although dozens of countries were holding back on a summit declaration laying out commitments to democratic principles.
Amid criticism his administration has made little progress in advancing human rights and democracy in its foreign policy, Biden announced a planned $690 million in funding to help fight corruption, support free and fair elections and advance technologies that support democratic governments.

"We're turning the tide here. As we often say, we're at an inflection point in history here, when the decisions we make today are going to affect the course of our world for the next several decades for certain," Biden said addressing the largely virtual Summit for Democracy, the second such event organized by the White House.

Although leaders of 120 nations were invited, a summit declaration-- which included backing to basic tenets of democracy like free and fair elections and called out Russia for its invasion of Ukraine -- was initially endorsed by only 73 countries.

Twelve of those dissociated themselves from parts of the text, including India, Israel and the Philippines, which all opted out of a part backing accountability for human rights abusers and acknowledging the importance of the International Criminal Court.

"To meet the rising challenges to democracy worldwide, we commit to strengthen democratic institutions and processes and build resilience," the declaration said.

A senior administration official said the declaration remained open and additional countries could still endorse it.

"As is the case with any joint statement, negotiations can sometimes be intense. In this case, we were dealing with an extraordinarily large number of governments and some of the conversations went pretty far down to the wire," said the official, who briefed reporters on condition of anonymity.

Biden announced over $400 million for similar programs in 2021 when he last held such an event.

Rights advocates say there is little evidence the countries joining the summit have made progress on improving their democracies, and that there is no formal mechanism to hold participants to the modest commitments made at an earlier meeting.

More recently, a move by Prime Minister Benjamin Netanyahu's coalition government to weaken the power of Israel's judiciary; Mexico's move to gut its election oversight body; and India's decision to disqualify a top opposition political leader have all cast a pall over Biden's repeated claims that democracies have become stronger.

Netanyahu, one of 85 world leaders who addressed the summit on Wednesday, voiced confidence that a political compromise could be reached on the judicial reforms, which he argued could be reconciled with civil liberties even as his opponents have accused him of seeking to curb judicial independence.

Ukrainian President Volodymyr Zelenskiy pleaded for more weapons to help defeat Russia. Moscow's invasion of Ukraine in February 2022 has killed tens of thousands and reduced cities to rubble.

"The enemies of democracy must lose," Zelenskiy said.